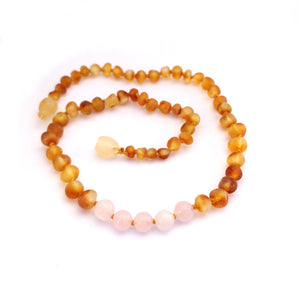 Baltic Amber Teething Neckless- Raw Honey & Rose Quarts - BY MOTHER GOOSE
This necklace is made with beads of genuine BALTIC AMBER from Lithuania, interspersed with stunning ROSE QUARTZ. Also known as pink quartz, this gemstone is thought to be a healing aid for the heart chakra. When in balance the gemstone provides healing balance to the wearer. 
  Amber is a tree resin that has been fossilized for millions of years.  When worn against the skin, the skins warmth releases healing oils from the amber, providing anti-inflammatory and analgesic effects. Historically, Baltic Amber has been used as a traditional remedy for many ailments.
Clasp is pop-apart