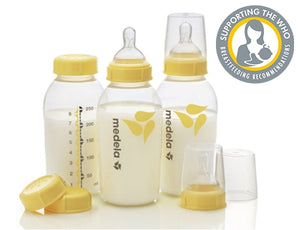 Medela Breastmilk Bottle Set
Medela Breast Milk Bottle Set includes everything you need to collect, store and feed breast milk. Made without BPA - safe plastic designed to retain breast milk beneficial properties. Compatible with all Medela breast pumps to pump, store and feed with one container.
Available in 5oz or 8oz sizes, these easy-to-use Medela bottles let you precisely measure your breast milk with easy-to-read ounce and millimeter markers. Conveniently dishwasher and microwave safe - perfect for busy moms! Also comes with travel caps to keep the nipple clean while you're out and about.