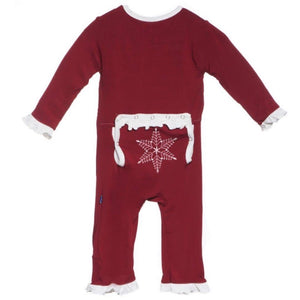 Kickee Pants D2 Applique Coverall
Snap your little peanut into the snuggly cuddly goodness of our adorable Coverall in Brick Snowflake. There is just nothing better than the soft comfort your little one feels in this wardrobe favorite! Diaper checks are a breeze thanks to our swell back flap that snaps open for easy diaper access. Great for out and about! Romper not intended for sleepwear.
Fabric Content: 95% Viscose from Bamboo, 5% Spandex
Now rated UPF 50+!
*Disclaimer* Instead of the white ruffles around arm and bum, the trim is pink and flat.